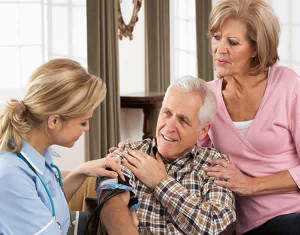 Our volunteers are the heart of Mays Hospice, providing a special kind of care and compassion for our patients and their families. Every day one of our volunteers makes a significant difference in the life of a Mays Hospice patient. Mays Hospice feels that no one should die alone! The hours you give to Mays Hospice families and patients can be the most rewarding experience of your life.
Mays Hospice needs volunteers like you to fill numerous volunteer activities all over Oklahoma and Northeast Texas.
Some important questions to ask when considering Hospice volunteering:
• Are you looking to enhance your life?
• Do you enjoy working with people?
• Are you a team player?
• Do you want to make a difference in someone's life?
If you answered yes to all of these questions, then volunteering for Mays Hospice is right for you.
How can you become a Mays Hospice volunteer?
• Complete an application
• Setup an interview with the volunteer coordinator
• Complete 4-6 hours of free training
• Experience the joy of being matched up with a special patient
Frequently asked questions:
Q: What happens if my patient dies?
A: If your patient passes away, Mays Hospice will try to notify you immediately. All of our volunteers are offered grief counseling by our Chaplain on staff. We do not expect this to be an easy experience and therefore we offer many support services for our volunteers.
Q: I am concerned that I will become too close to my patients and will not be able to handle their deaths. What should I do?
A: At Mays we feel that the best volunteers are those that establish a rapport with a patient. We do not expect anything else. However, if you feel this is a serious concern we would be glad to refer you to numerous volunteer opportunities available in the community.
Q: I have recently lost a family member/friend and experienced the care of hospice services. Would I be able to volunteer after a recent loss?
A: Mays Hospice believes that people need to go through the grieving process, and that everyone's timeframe is different. Usually, an individual needs at least six months before embarking on the volunteer journey.